On the first Saturday of October (the 4th), hubby and I woke up early, left our place at 6 a.m. and drove all the way to Providence, RI for two hours all for the 2014 Taste Trekkers Food and Travel Expo at the Providence Biltmore. Despite the heavy rains, we were bright-eyed and bushy-tailed, ready to enjoy Foodie Day.
We tried to take a selfie with this banner until one of the staff saw us and took this picture of us.
This is the ballroom at Providence Biltmore where we gathered to listen to the speakers. I'm right there in front before other attendees arrived.
Mr. Seth Resler, the brains behind Taste Trekkers, welcomed all of us to the Expo and introduced the five speakers.
The first speaker was Mr. Sam Poley, Director of Public Relations and Communications of the Durham Convention and Visitor's Bureau who talked about Durham, North Carolina. Before his talk, he took a group selfie that I joined in, but you can't see me because I was in the middle of the group.
Here's Mr. Poley's tweet with the group selfie. I've got my eyes closed, but I'm still smiling.
#2014TTExpo selfie w/foodies as I rep @DurhamNC in #Providence. Thanks for having me! Enjoy the snacks, y'all! pic.twitter.com/hTnmE2UyZ4

— sampoley (@sampoley) October 4, 2014
Anyway, who knew Durham, NC is the "Foodiest Town in America"? I surely didn't. I know so little of Durham except for "Bull Durham". After Mr. Poley's talk, I'd like to visit Durham now because it sounds like a very diverse melting pot with food trucks, rodeos, breweries, etcetera.
Ms. Lisa Gustavson, owner of Sojourner Tour Company, talked about France. She surprised me by saying champagne bubbles were historically a flaw. Then the French embraced the flaw and champagne became what it is today. What's more, cheese flavor varies from cheesemaker to cheesemaker, and depends on what the animals eat from pasture to pasture.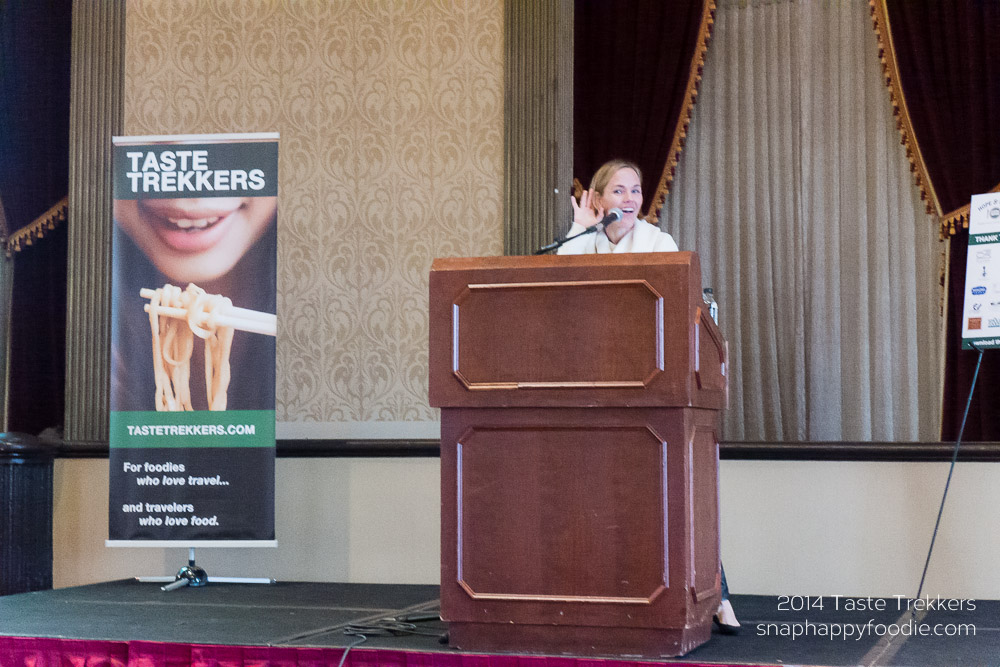 Mr. Richard Gutman, Director and Curator of the Culinary Arts Museum at Johnson and Wales University piqued my interest, so we're scheduling another trip to Providence to check it out.
Mr. Christopher Bakken, Author of Honey, Olives, Octopus: Adventures at the Greek Table
, discussed Greece. He made me realize that Greece is best experienced off-the-beaten-track. His best advice? Avoid restaurants near the harbor. Order whatever the catch of the day is and trust that they know what they're doing. Pretty sound advice!
Mr. José Duarte, Chef and Owner of Taranta Restaurant, spoke about Peruvian cuisine. I learned that Peru has an impressive 3,600+ varieties of potatoes. I'd like to try a pachamanca, but I don't think I'm ready for cuy (guinea pig). They're adorable to look at, but not to eat.
After the five speakers were done with their talks, we headed to our Edible Sessions. Hubby and I were scheduled to attend three sessions: (1) Beyond the Falls: Wine and Food Adventures in Niagara; (2) The Geography of Greek Food; and (3) The Flavors of Miami.
TO BE CONTINUED. . .
Check out the posts about Edible Sessions and the Hope & Main Tasting Pavilion!
This post contains affiliate links, which means I receive compensation if you make a purchase using the links in this post. We paid for our own attendance to this exposition. All opinions are my own.