Whatever you've read or heard about Saybrook Point's Tall Tales Guesthouse is no tall tale.
Hubby and I headed to Saybrook Point's Tall Tales Guesthouse on a perfect sunny Saturday. He thought he was driving, but this gal's gotta be behind the wheel. It was time to enjoy some long-distance driving with music playing in the background! The drive took an hour and a half, a surprisingly smooth one. No traffic jams anywhere – not in Merritt Parkway or I-95. We got lucky!
As we continued onto College Street, the waters of the North and South Coves came into view. Soon, we reached Saybrook Point's Main Inn. The check-in process went smoothly, thanks to the amiable receptionist who gave us a warm welcome. After checking in, Bernie, the friendly and informative bellhop from the Inn, met up with us at Tall Tales, an Italianate-style guesthouse that stands overlooking the Connecticut River. He led us to our room on the third floor of the guest house: #730, General William Hart's room (also known as the Gold Room). It was a pleasant surprise, because that particular room piqued my interest when I looked up their suites online.
I even received a welcome card. What a thoughtful gesture!
The General William Hart suite featured a comfortable king bed with European bedding, lovely hand-woven linens and a warm fireplace (not in the picture).
Charmingly decorated in gold tones, this room was designed to impress, even if all you want to do is put your feet up and relax the day away.
The room was perfect for settling back and taking it easy. Here we are taking our own sweet time before we headed out to dinner.
The room also comes with a basket of Dean and DeLuca gourmet treats.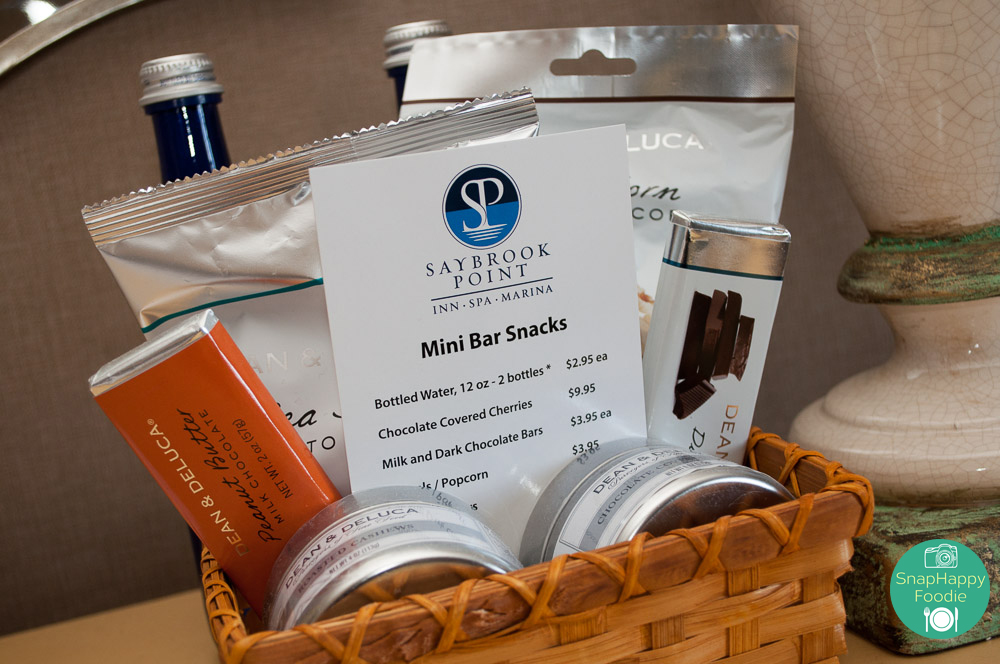 This desk area near the balcony is perfect for when you need your own little nook to read or map out your plans for the day.
The balcony offers a lovely view of a lighthouse with the Long Island Sound and the Connecticut River in the background.
Back inside the suite, the spacious, well-appointed bathroom was set up to pamper and indulge you. If you want to take a breather, the bathroom offers a comforting air bath hydrotherapy tub with air jets.
The living room was yet another area where you can sit back and enjoy the fireplace with a good book in hand.
The dining area made the guesthouse feel like home.
There were complimentary coffee, tea and baked pastries.
There was a game lounge on the second floor with traditional billiards, but I did not get to take a picture of  it. The well-equipped kitchen, though small by real-life standards, would suffice if you're on vacation.
The next day, hubby and I woke up early to catch the sunrise and walk the Causeway. The view of the sunrise from our room was stunning.
If you're looking for a weekend getaway or even a vacation rental, Tall Tales is a luxurious and indulgent option you should go for. The area feels like you're in the shorelines of Maine, Massachusetts or Rhode Island minus the long drive.
You wouldn't have any problems with parking as there's on-site parking in the back of the guesthouse. Want to get away but still need Wi-Fi? That's complimentary. If you're looking for some delightful eats, there's Fresh Salt at the Inn within walking distance.
Since I worked for a company that dealt with green building and sustainable design, I was only too pleased to learn about their green practices, such as using motion-sensing thermostats, energy-saving LED lighting and light switches and low-flow toilets, among others.
While Tall Tales opened only late last month, this new addition to Saybrook Point's well-furnished properties is the best and most luxurious by far. With its Italianate style of architecture complete with corbels and cornices, Tall Tales is well-appointed and upscale, yet it exudes a cozy, intimate and tranquil ambiance.
Now that's no tall tale.
Disclosure: I received an invitation for an overnight stay at Saybrook Point Inn & Spa's Tall Tales guest house in exchange for writing a review on this blog. While this is a sponsored post, all opinions are my own.