After eating breakfast at Muddy Waters Cafe (see my post here), we made our way to Wheeling City Tours. While their address says Bank Street, their entrance is on South Water Street. Keep in mind, reservations are required.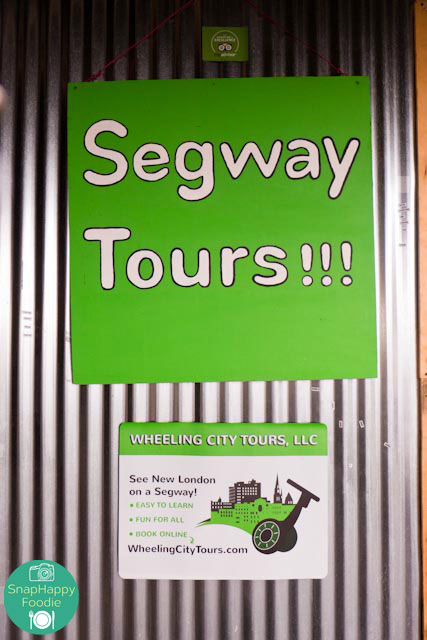 Now you might be wondering what's a Segway tour recap doing on my food blog?
Well, not only did I learn about New London's history and architecture, our tour guide Dawn gave us excellent tips on where to eat, drink and shop! Me being me, I paid serious attention to the restaurants she mentioned.
Before the tour started, we had to watch a safety instructional video and sign waivers. I almost didn't go through with it because the video scared the bejesus out of me. Especially that part when you're going downhill. I remember thinking, "sure, it's all fun and games until you fall splat on the ground." Yikes!
But you have to face your fear head-on, right? Just listen and pay attention to the instructor. When I finally stood on that Segway and learned how to ride it – lean forward to move forward and lean back to slow down – well, it wasn't so scary anymore. Plus Dawn was really the epitome of patience and support. She's got that mix of motherly concern and lawyerly gravitas down pat (yes, she's a lawyer).
Once our tour got started, our first stop was this Coast Guard ship.
Then there was this replica of the Amistad.
Then we were off to Fort Trumbull State Park. We stopped in this spot to stretch our legs. Dawn pointed out historical spots and shared stories about the area. From this spot, you could see New London, Groton, the Thames River and Long Island Sound.
It's amazing how much history New London has. While it has fallen under my radar for so long, it's great to finally get to know the area somehow. We usually just pass it on our way to Mystic, but it turns that New London has plenty of attractions for the history buff and the food lover.
Here is the two of us just goofing around. As you can see, I still kept one hand on the handlebar while pointing to the Historic Fort.

During the tour, Dawn pointed out restaurants like Dev's on Bank Street, Jasmine Thai Restaurant, Neon Chicken (for their excellent ribs), Captain Scott's Lobster Dock, The Seehund, Mambo Bar & Restaurant, Hot Rod Cafe (which I blogged about before), Berry's Ice Cream & Candy Bar, and Sweetie's Bakery and Cafe. We ended up going to Sweetie's after lunch for desserts. The next time my craving for lobster strikes, I want to go back and try the food from Captain Scott's.
Despite the alternating rain and fog, the Segway tour of Downtown New London, the waterfront, and Fort Trumbull was so much fun! Dawn knew so much about the place. She also made sure that we were safely following behind her. What's more, the New London residents were so accommodating of us while we were rolling around their town. As for riding the Segway itself, midway through our tour, it felt like second nature…nay, second wheel. The gliding motion made it feel like ice skating, which is excellent since I love ice skating.
Things to remember when you're doing the Segway tour:
Put that phone away. Your tour guide will take pictures for you. Dawn took most of the photos in this post except for the first and last ones.
Don't get scared during and after watching the safety instructional video. It's a necessary evil, but it's to make sure that you know what and what not to do. Sure I was freaked out by it, but it turns out riding a Segway was fairly intuitive.
Use your common sense.
If you end up hating it, well, at least you tried it once! 😉 When we got the hang of it, we loved it to the point that we were checking the prices of Segways.
Just do it. It's way fun.
Address:
Wheeling City Tours
36 Bank St, New London, CT 06320
Disclosure: I received an invitation for this Segway tour of New London, CT in exchange for writing a review on this blog. While this is a sponsored post, all opinions are my own.