Oh, what we'd do to try a new restaurant! Last Saturday, hubby and I traveled about 3 hours round-trip despite the gloomy weather to check out Hot Rod Cafe in New London.
24 beers on tap?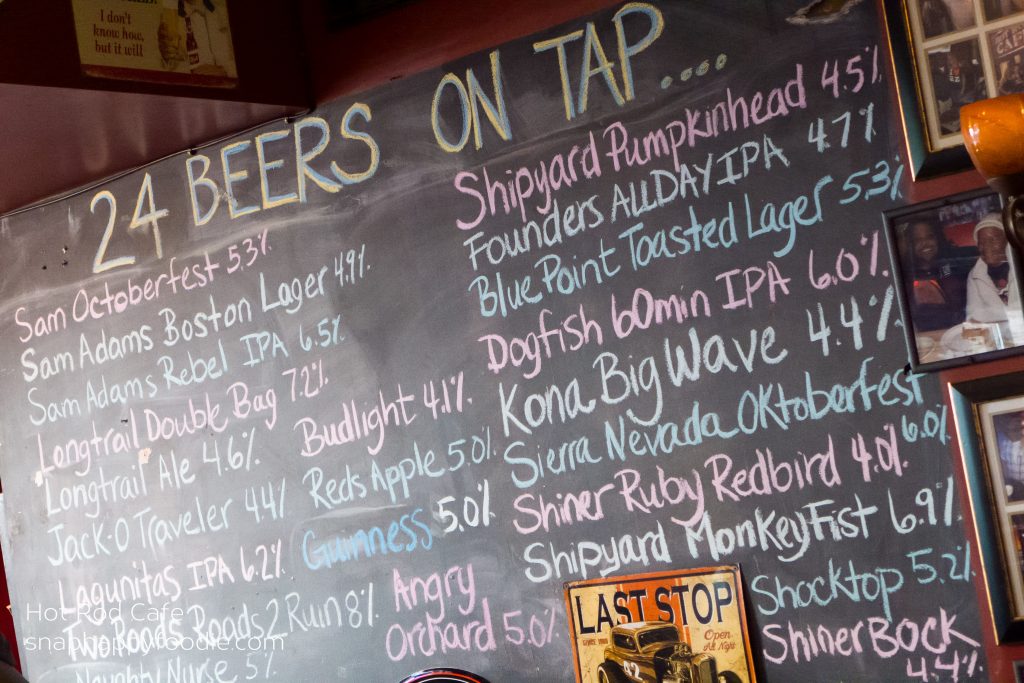 24 beers on tap.
Hubby played it cool with a simple Budweiser.
A drink with an unusual name caught my attention – Sugar Daddy. With Buttershots, Bailey's, Kahlua and milk (yes, milk!) served on the rocks, this drink reminded me of chocolate milk but with a kick! I totally fell in love with it.
Imagine our surprise when we saw the Filipino lumpia listed on their menu! The ground beef for this lumpia was quite compact, almost sausage-like. It's supposed to be one of the popular items on their menu, so yay for that!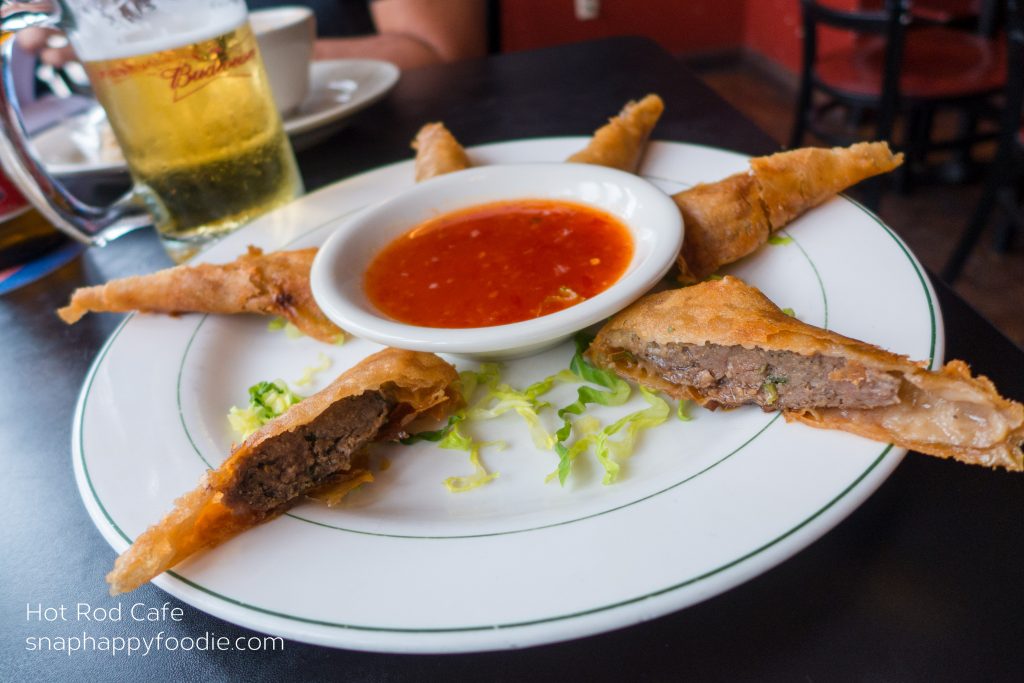 The Seafood Chowder with discernible clams, scallops, shrimps and lobster was a winner for us! We actually asked Cafe owner Rod Cornish if they're joining the upcoming Chowdafest, but sadly, they're not.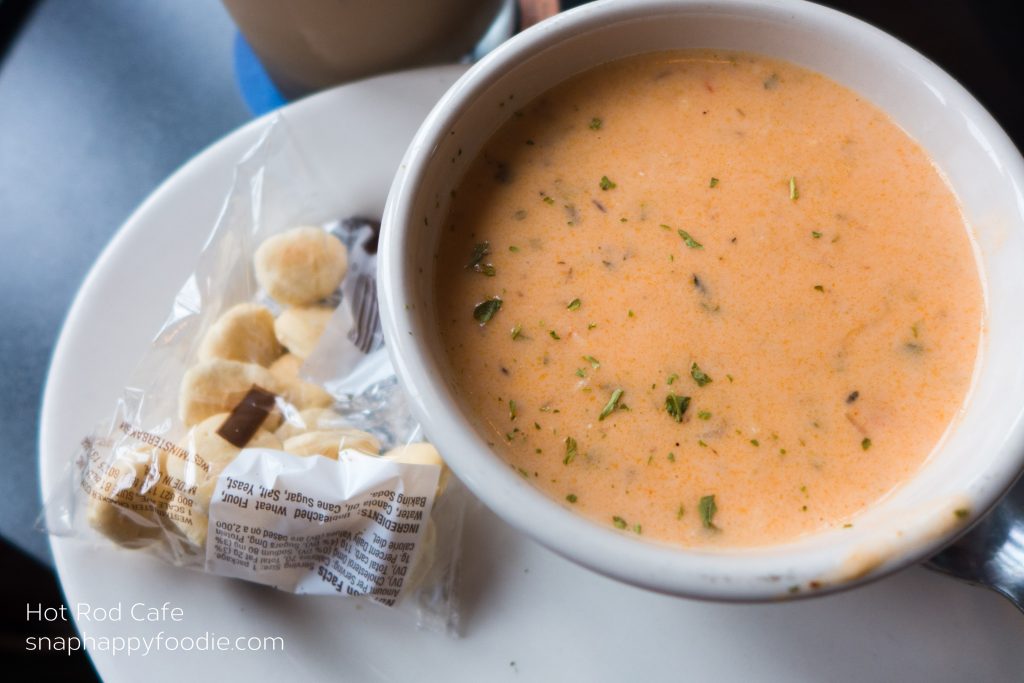 But what did we really come here for? Their wings, of course!
Clockwise from the celery: Cajun Ranch, Honey BBQ, Sriracha Ranch, Buffalo, Spicy Garlic Pepper Rub and in the middle, Peanut Butter Jalapeno!
They all tasted great, but hubby and I had different favorites. Mine were the Spicy Garlic Pepper Rub, Buffalo and Honey BBQ. Hubby loved the Sriracha Ranch, Cajun Ranch and Peanut Butter Jalapeno. Here's what we thought of each flavor:
Spicy Garlic Pepper Rub – I loved this one for its simplicity.
Buffalo – With its bold buffalo taste, how can you say no?
Honey BBQ – I enjoyed the sweetness of this wing.
Sriracha Ranch – Hubby's a fan of Sriracha, so this was a big hit with him. The heat was tempered by the ranch flavor.
Cajun Ranch – He also loved this one. It's like ranch with a bit of ooomph!
Peanut Butter Jalapeno – This one's for all you peanut butter lovers out there. Chef Carlos went to our table while I was eating this. Told him all I could taste was the peanut butter. Then the heat from the jalapeno kicked in! Served me right for whining about the peanut butter.
After we were done testing their wings, we had to take a quick break from eating. Then their Lobster Quesadilla with onions, jalapeno and avocado came along.
It was followed by their Blackened Salmon Salad topped with house-made mango salsa and mixed greens.
This is the outdoor seating, which was obviously out of commission because the weather's been cold lately.
I couldn't leave without having pictures taken with the owner Rod and Chef Carlos.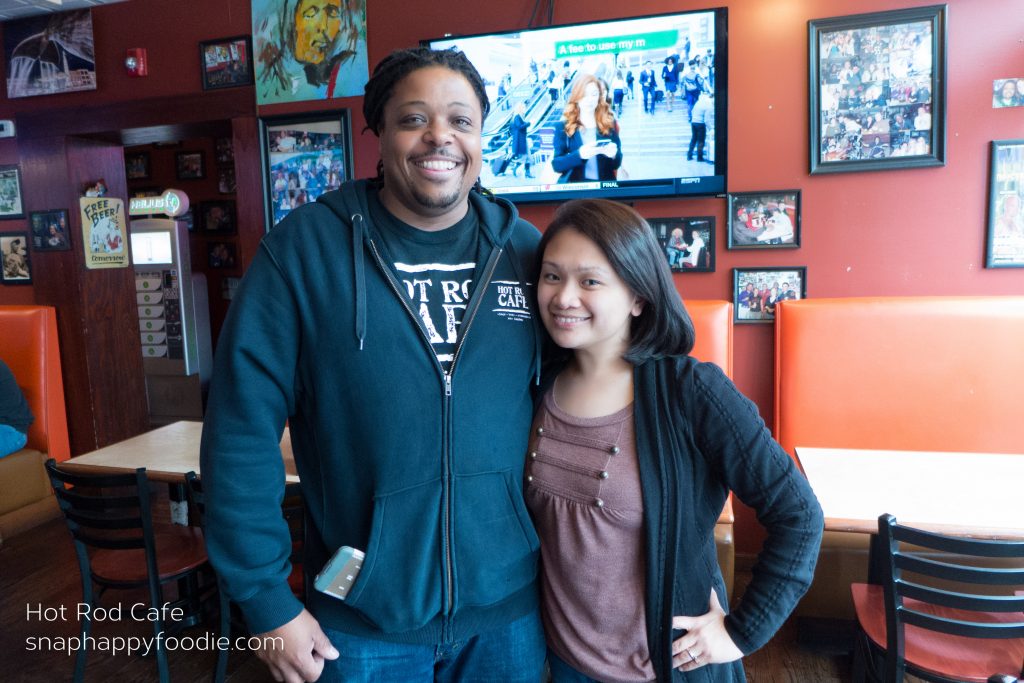 Verdict: While the Lobster Quesadilla and the Blackened Salmon Salad were really good, you go here for the wings and beer. For me, a perfectly good chicken wing starts with the meat. You can cover it up with all sorts of sauces, but if the meat itself is dry and rubbery, then you're just wasting your time. This is what makes Hot Rod Cafe's wings excellent – their wings were tender and juicy. The sauces were just the icing on the cake.
With 30 different chicken wing flavors ranging from spicy, medium spicy and not-so-spicy plus 24 beers on tap, there's definitely the right combination of chicken wings and beer just for you. FYI: They have special nights like Tuesday Ladies Nights, Thursday Prime Rib special and Soul Food Sunday.
Address:
Hot Rod Cafe
114 Bank Street New London, CT 06320
Disclaimer: I received an invitation for this free food event in exchange for writing a review on this blog. All opinions in this blog post are my own and my husband's.