The Brick Walk in Fairfield, CT is fast becoming our favorite place for affordable good food. The 45-minute drive is hardly an obstacle. The first time we went there, it was to try the food from Hana Tokyo, then it was followed Mecha Noodle Bar (we've been to Mecha numerous times already!). Turns out there's another great food place there serving pizza and Neapolitan street food with a mozzarella and burrata bar – Brick + Wood.
Traditional wood-fired oven? Check!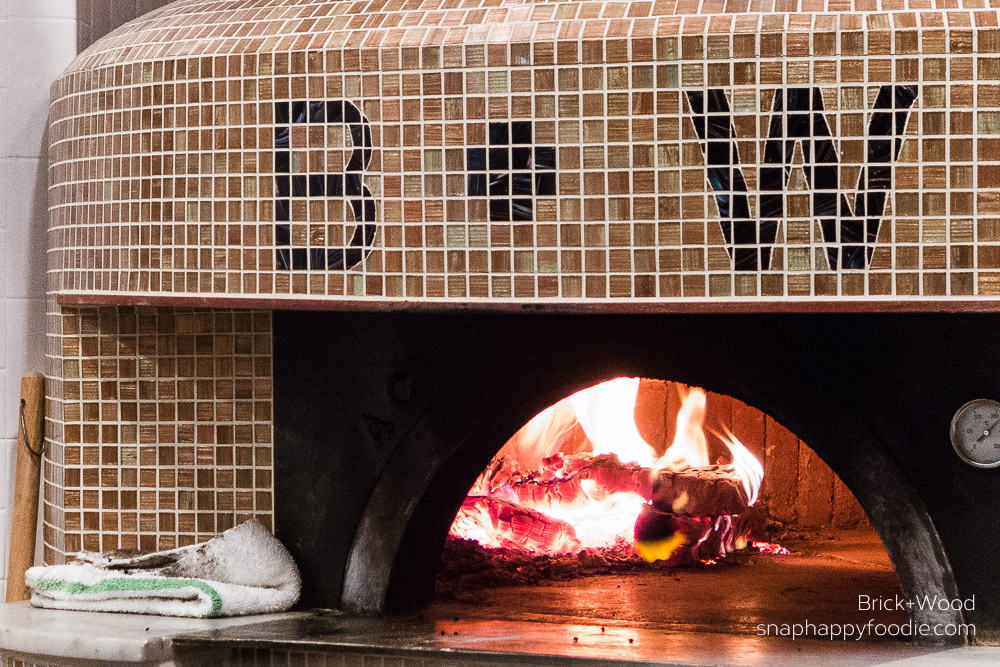 Mozzarella bar? Check! Here's the owner Paolo Cavalli making some hand-pulled mozzarella.
Wine on tap? Say what? It was my first time to see wine on tap. But as Brick + Wood folks explained, having the wine on tap, bottle-free, helps preserve the wines' quality. No one loves a good wine like we do, so anything that keeps the wines as great as possible earns major brownie points from me.
I had a glass of Moletto Prosecco and another glass of Katas Viura. Hubby opted for Katas Tempranillo.
We started off with this – crostini with brie and honey.
Then they brought out the Porchetta Board that had parmiggiano reggiano, fig jam, crostini, foccacias, pork loin and pork belly.
After the board, they served the Fritto Misto, which was fried calamari and shrimp with cherry peppers served aioli and chipotle (not photographed). In between eating, I walked around and took pictures of the place.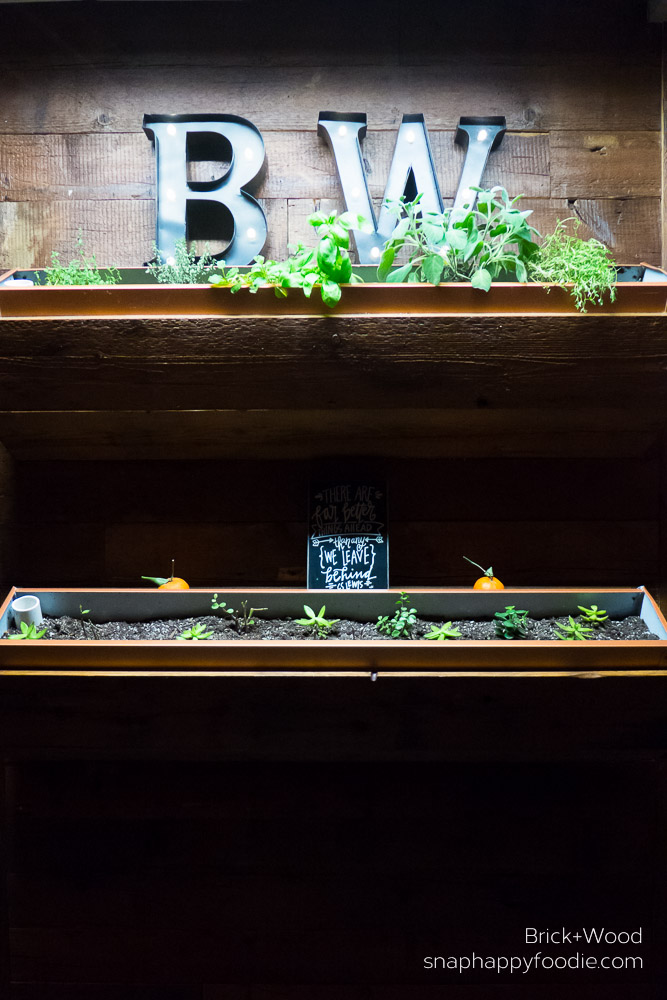 Of course, the sight of food led me back to my seat. I saw the Pear and Gorgonzola Arancini being brought to the table.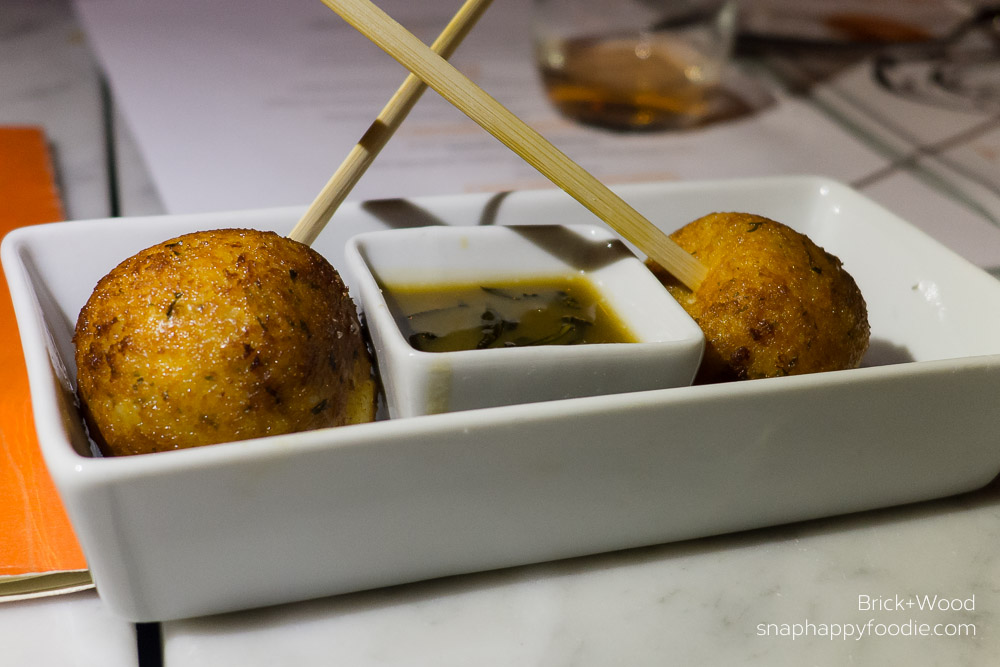 The sage brown sauce was sweet. . .and I loved it!
The Arugula Salad with arugula, pear, candied walnuts, maple vinaigrette and fried bocconcini seemed like an abundance of leafy-ness, but we actually finished it.
Here's Clara slicing some prosciutto for sampling.
Say cheese!
This very light and creamy Truffle Burrata was made on-site everyday, so it really tasted fresh. It was served with prosciutto and, once again, arugula.
Have you ever heard of Girelli? I've never had it in my entire life until this visit to Brick + Wood. It was like a mozzarella sushi with eggplant, prosciutto and roasted peppers. Really good!
Finally, it was pizza time! We ate slices of three different pizzas – Margherita, Diavola (Texas Heat) and Zucchini. The pizzas were all beautifully charred. This one below is the Margherita with San Marzano tomato sauce, basil, fresh mozzarella and extra virgin olive oil.
The Zucchini Pizza would be perfect for vegetarians.
The pizza that ended up our favorite – Diavola (Texas Heat) – had spicy soppressata, garlic, jalapeños and oregano. Unfortunately, no picture! If it makes you curious, then you have a good reason to visit Brick + Wood!
Now what's a good meal without sweet desserts? First we ate this Flourless Chocolate Cake Alla Mode.
It was followed by this Maple Bread Pudding topped with Bacon.
Verdict: Let's face it, Italian restaurants are a dime a dozen in Connecticut. However, if you're looking for an Italian restaurant that's perfect for hanging out with friends after work, then Brick + Wood is your place to go. What could be more delicious than wood-fired oven-baked pizza? Even better, the mozzarella and burrata is lovingly handmade, making it really fresh and creamy. Their mozzarella bar already won me over, but the wine on tap and Neapolitan street food made it even better.
Address:
Brick + Wood
1275 Post Road Fairfield, CT 06824
Disclaimer: I received an invitation for this free food event from MaxEx Public Relations in exchange for writing a review on this blog. All opinions in this blog post are my own and my husband's.