Last Saturday, we met up with some blogger friends at Barcelona Wine Bar in West Hartford, CT to try the food off their Weekend Brunch Menu.
First stop: the Bloody Mary bar. Because you can never have brunch without Bloody Mary. Amirite?
We had this charcuterie plate with an assortment of meats, cheeses and dates.
Care for some Manchego & Jamon Croquettes with Garlic Aioli?
This bacon steak is quite a looker.
They made the bacon steak the day before we went to the restaurant. Mmmm!
Then we had sardines, which I haven't had in a long while.
The Pork Belly Bocadillo is one of my favorites from this visit. If you want to capture my heart, then pork belly is the way to go.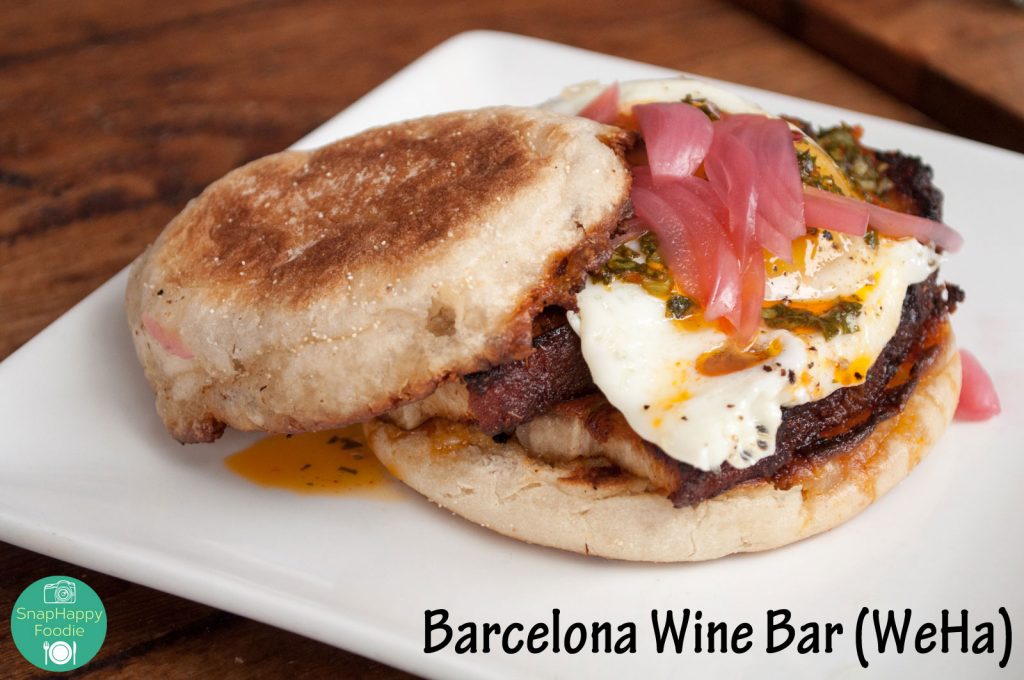 We all had this Cava Sangria, a pretty refreshing drink for summer!
This was yet another new dish for me – Andalusian flamenco eggs!
We also had Poutine, which I haven't eaten in ages! The last time was when we went to Montreal.
How about them good ol' pancakes with maple syrup?
In the spirit of trying something new, I ate grilled duck heart. I hesitated at first but what the heck! How often can I try this anyway?
It was also my first time to eat Torrijas. Not sure how else to describe it, but it's like the Spanish version of french toast.
Now I'm familiar with this dish – Albondigas!
If you like veggies, Barcelona's brunch menu has this Summer Squash Plancha.
Asparagus is one of my favorite veggies. I usually make grilled asparagus wrapped with bacon or prosciutto, but this dish came with egg, shallot and truffle.
Here's the very creamy Patatas Bravas.
As someone who enjoys seafood, this next dish elicited a "yay!" from me. Let's give it up for this lovely Paella Mariscos!
The last main dish was Roasted Bone Marrow. I'm no stranger to bone marrow since Filipino cuisine has its bulalo, which is beef bone marrow soup. But this is the second time that I've eaten roasted bone marrow. Still delicious.
For dessert, we had Churros and Dulce de Leche Crepes. Enough said.
I missed this last dish, but hubby said it was delicious.
Verdict: If you've never been to Barcelona Wine Bar, they have locations in Connecticut, Georgia, Massachusetts, Virginia and DC. In Connecticut, they have locations in Fairfield, Stamford, New Haven and the one we went to, West Hartford.
Hubby and I have been to Barcelona in Fairfield before, so we thought Barcelona WeHa will have the exact same menu. We were wrong. It turns out that each location has its own menu, although there are similar items.
Barcelona WeHa is right smack in the center of West Hartford's restaurant and shopping district. There's enough paid parking spots in the back of the restaurant so parking shouldn't be a concern. Our little group really enjoyed sitting outside.
Menu-wise, they offered items that I've never eaten before – huevos a la Flamenca, grilled duck hearts and torrijas. Their tapas brunch allows diners to mix and match from their selection of small plates where dishes are served family-style.
If you're interested to go after seeing the variety of items from their brunch menu, they have weekend brunches from 11:30 am – 4:00 pm.
Address:
Barcelona Wine Bar
971 Farmington Avenue, West Hartford, CT 06107
Disclaimer: I received an invitation for this free food event in exchange for writing a review on this blog. All opinions in this blog post are my own and my husband's.