Last Sunday, I attended a bloggers' brunch at Washington Prime in South Norwalk. From the moment I entered the restaurant, I knew who the bloggers were – roaming around with their DSLRs in tow and taking pictures of the food. People of my own kind!
I met bloggers like Jessica of The Entertaining House, Cristina and Jeff of Costa Cucina, Kim of Savory Sweet Eats, Mike of Fairfield HamletHub, Denise of Dee's Cuisine, and Andrew of Food Dudes.
Here's the only interior shot I have of Washington Prime. I was way too busy taking pictures of the food!
I've seen Washington Prime before, but have never eaten there. Located between Washington and Water Streets, Washington Prime's easy to find. They even have outdoor seating. I don't think they have their own parking though. I parked in the Ironworks SoNo parking garage for $5. Not bad. I'm used to the horrendous parking prices in NYC, so when I stumble upon such a cheap parking fee, I'm just too gleeful for words. It was a quick walk from the parking garage to the restaurant.
I didn't know that it was the first day of their Sunday Prime Buffet. Priced at $29.95 per person, here's what you get:
Quite a lot, right? I ordered a mimosa. Next time, I'll try their Moscow mule.
As for the food, they had a salad bar, a raw bar, prime rib station, pastry station and more. I honestly didn't know where to begin! In light of such indecision, I did what I do best – went around and took photographs first.
Here are the salads from the salad bar.
Then I checked out their Raw Bar. It was pretty high for a vertically-challenged person such as yours truly, but I successfully took pictures of the shrimp cocktail and oysters.
Care for some prime rib? They have that!
Or maybe you want some bagels, smoked salmon or Eggs Benedict?
Here's the cheese board. Jessica of The Entertaining House was right – the havarti was excellent!
The Fruit Bar had grapes, pineapple, cantaloupe and honeydew. I started off my brunch with fruits and some salad. Just wanted to pace myself, really.
Here are the items from the Pastry Station.
Now you can see my plate below. This wasn't the only plate I used that day. However, this was the only plate that I took a picture of. The Eggs Benedict had a slab of bacon sandwiched between the slow poached egg and toasted English muffin, then topped with creamy hollandaise sauce.
Here's my favorite picture from the brunch. Brace yourself for yolk porn!
See how runny it was? I love that picture! It's the first time I've ever captured egg that way.
Just when I was getting ready to leave, they brought out the desserts. I only tried the pumpkin cheesecake, but not the others.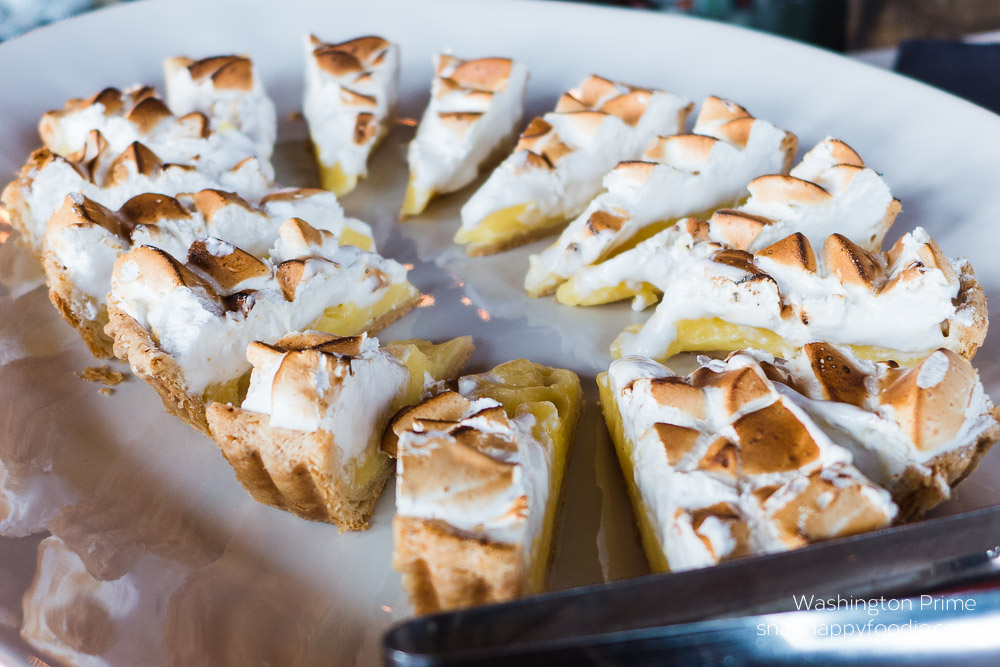 What made the brunch better? I met other bloggers whose work I read occasionally. Hopefully, I'll get to chat with all of them next time.
Verdict: Washington Prime is off to a good start with their Sunday brunch. They served a pleasant selection and sinful amount of good food. Their background music was just nice and relaxing, perfect for a Sunday meal. I should bring my family to this brunch sometime. They'll definitely enjoy what the place offers.
Address:
Washington Prime
141 Washington Street
South Norwalk, CT 06854