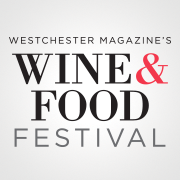 Disclosure: I attended this food event for free in exchange for writing a review on this blog. While this is a sponsored post, all opinions are my own.
Hubby and I went to Westchester Magazine's 6th Wine and Food Festival's Grand Tasting Village at Kensico Dam Plaza in Valhalla, NY last Saturday. It was a food event that I've been looking forward to this year.
The weather was pretty strange last Saturday. There was such a heavy downpour during our drive to Valhalla. When we arrived, it was cloudy. By the middle of the festival, it rained slightly and then the sun finally came out, so yay!
This was us before we got started with the eating and the drinking.
There were five Chef Demos scheduled that day:
Bernard Janssen of Zwilling J.A. Henckels
Michael Psilakis of MP Taverna
Donatella Arpaia of the Food Network
Peter Kelly of X20 Xaviars on the Hudson and Kathie Lee Gifford of NBC's Today Show and
Joy Bauer of NBC's Today Show
We saw four out of five chef demos. Here's Chef Bernard Janssen of Zwilling J.A. Henckels.
Here's Chef Michael Psilakis of MP Taverna.
He made this very tasty grilled octopus. It was my first time to eat octopus, so this was a good intro.
Chef Donatella Arpaia's demonstrated how to make meatballs.
Here's a snippet of her demo. I had to stop taking the video at some point to focus on what she was saying.
This is the final product – Chef Donatella's meatballs!
Kathie Lee Gifford of NBC's Today Show was around to promote her GIFFT Wines.
Chef Peter Kelly made some risotto with Kathie Lee Gifford, but here's the video before they got started.
Now here are some of the food and drinks from the event!
Before leaving, we stopped for some coffee from Coffee Labs Roasters.
I have to say, there seems to be an abundance of grilled octopus this year. There were at least four octopus dishes that we tried.
Here's the two of us before we left. An event-goer volunteered to take our picture, so why not? See the smiles after all the eating and drinking!
Once again, we had great time at this festival. Watching the experts during the chef demos was both informative and entertaining, especially Chef Donatella's. Who knew making meatballs could be so easy? What's more, we've got new restaurants to check out and new wines to buy. Attending this festival was definitely a Saturday afternoon well-spent.