Last month, my husband and I attended WWF-Philippines' The Sustainable Diner Workshop "Savour Planet: No Place for Waste" at the View Park Hotel in Tagaytay City, Cavite, Philippines.
This was my second time to attend their workshop; hubby's first time. Once again, it proved to be a very informative event. Hubby even told me that he learned so much, so I'm glad that he attended this with me.
Just to refresh your memory, The Sustainable Diner is a three-year project by WWF-Philippines with project sites in Quezon City, Cebu City and Tagaytay City. Its main donor is the German Federal Ministry for the Environment, Nature Conservation and Nuclear Safety through its International Climate Initiative (IKI). They came up with a 9-Step Restaurant Guide, which I'm sharing below.
Dine in sustainable restaurants often.
Choose dishes made of ingredients that are in season.
Be adventurous! Try plant-based dishes.
Order only what you can finish.
Ask about the dish and its ingredients.
Don't be afraid to request for modifications.
Bring your own reusable utensils.
Segregate your waste properly.
Educate your friends about sustainable dining.
The Sustainable Diner project of WWF-Philippines aims to contribute to improving the implementation of sustainable consumption and production (SCP) and lessening food wastage in the country. WWF-Philippines wants to engage the government, food service businesses, and consumers so they will support sustainable dining practices and help make the Philippines' food service industry more environmentally friendly.
For this workshop, the focus was on reducing food waste. The picture below was our "class picture" for the event. So what happened during the workshop?
Ms. Mylene Reyes, the Quality Assurance Manager of View Park Hotel Tagaytay and Siglo Modern Filipino, spoke about the efforts made by Siglo Kalikasan and Sari-Sari to produce wood vinegar, practice natural composting, and recycle the recyclables.
Ms. Melody Melo-Rijk, WWF's Project Manager for Sustainable Consumption and Production in the Philippines, gave a brief overview of WWF and proceeded to talk about how food is the biggest threat to nature today, especially since the Philippines have a food waste problem. She shared interventions that consumers can do to help fight food waste. The overall goal, after all, is to promote and integrate sustainability among stakeholders by ensuring multi-sectoral awareness on the environmental impacts of the food service industry and how to reduce it.
Personally, I enjoy attending these events because I always learn something new. Did you know that all over the world, 1/3 of the food produced globally never reaches our plates every single year? This results in major greenhouse gas emissions! Yikes. Now what's the big deal with food waste? Well, wasting anything is never a good thing. More so when you're wasting food.
FOOD WASTE IS NEVER OK!

for the hungry and the food insecure
for the businesses' costs and profits
for the producers of food
for the energy wasted
for the water wasted
for the overall waste produced
"Ugly Produce" was the next topic to be discussed. Yes, our society's penchant for beauty definitely extends with our food choices when in fact, it shouldn't. What's ugly produce? It is produce that are misshapen, over- or under-sized with unusual color than the normal, perhaps with minor bruising, spots, discoloration and/or marks on the skin. While these fruits don't conform to the fruits available in supermarkets, etc., these fruits are as nutritious or even more nutritious than their "beautiful" counterparts. Don't let their appearances fool you into thinking that they're bad and unhealthy for you. What's more, eating these ugly produce helps the environment.
The next speaker was Mr. Jomar Fleras, the Executive Director of Rise Against Hunger Philippines, who spoke about food banking. He discussed the sustainable development goal of ensuring food security at the household level. Did you know that each Filipino wastes an average of 3.29 kg of rice per year? Tsk tsk tsk. I didn't realize that there's the Food Donation Act of 2009 here in the Philippines, officially referred to as Republic Act No. 9803 "An Act to Encourage the Donation of Food for Charitable Purposes" (here's the link if you'd like to read it in its entirety). He also talked about the Good Food Grocer, the Philippines' first food bank located in Taguig City for those in need. Its mission is to provide nutritious and safe food to nutritionally at-risk individuals and families.
The last speaker was Ms. Rina Papio, Founder of Earthventure/Greenspace who talked about Bokashi Composting. Bokashi composting is basically bioremediation – using biological organisms to remove pollutants and toxins from contaminated soil and water. Not all microorganisms are bad. She even mentioned the use of bokashi balls to rehabilitate rivers. Who knew?
Here's how they explained Bokashi Composting.
Here is the bokashi bran – EM Bokashi Bran fermented with genuine EM-1. It has Rice Bran, Carbonized Rice Hull (CRH) and EM Activated Solution.
Ms. Paguio said with bokashi composting, you can add all food waste. The process uses beneficial microbes and fermentation. Even better, there is no foul odor, and the waste decomposes faster than the usual composting. The compost juice can be used to clear sinks, toilets and plumbing naturally. They gave away 5 bokashi compost kits, but sadly, I didn't win any. I do plan to order a kit soon to give bokashi composting a try.
The last speaker was Ms. Jem Ong, Jem Ong, a private citizen who reached out to the The Sustainable Diner team so she can share her personal composting experience, and left us with her message, "you can do your part. It's easy."
Siglo Modern Filipino catered the event. It turns out that they've been using locally-sourced produce.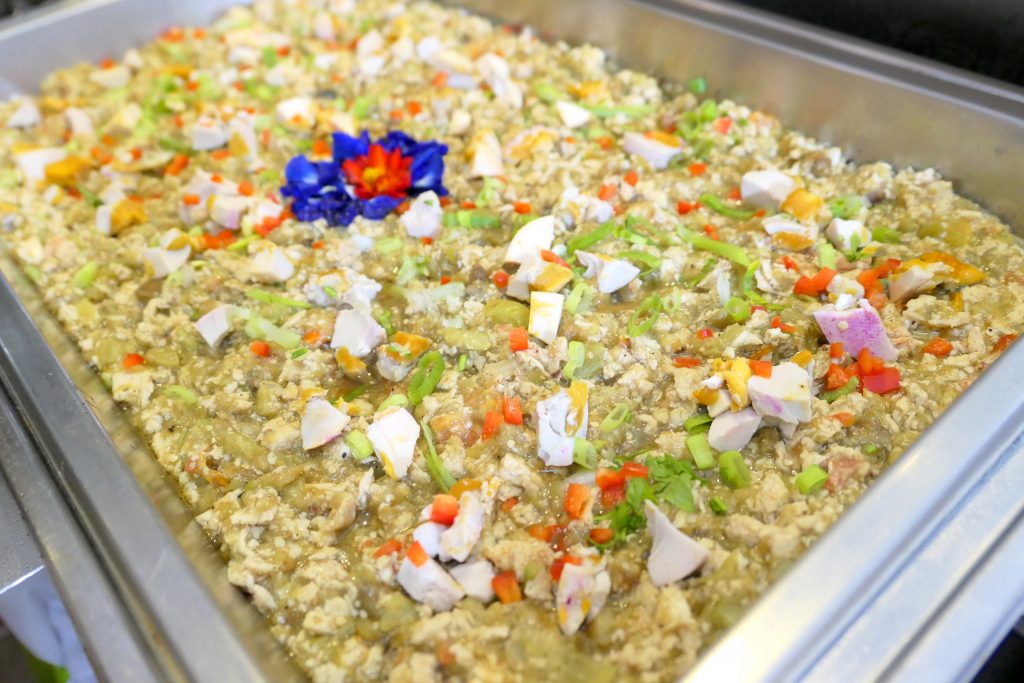 They also had little quizzes, and I won this little baby just for knowing how many kilograms of rice gets wasted every year (3.29 kilograms!). It's a pencil that can be planted once you've used up the pencil. What a great idea!
To learn more, check out "Food waste is never okay! WWF-Philippines conducts the Savour Planet 2019: No Place for Waste in Tagaytay City".
Disclosure: I attended this food event for free in exchange for writing about this event on this blog. While this is a sponsored post, all opinions are my own.