Chef Prasad Chirnomula's vegetarian restaurant Thali Too in New Haven recently updated its menu and we were invited to try their food. Last Saturday, we had a tummy-filling afternoon, sampling the restaurant's newest offerings.
Right in the heart of the Yale campus between the Yale Bookstore and the Apple Store is a small alley that leads to Thali Too, a casual, vegetarian Indian restaurant with a budget-friendly menu that seems geared to students in the area. Thali Too is actually located behind the Apple Store.
While the day was gorgeous enough to sit outside, we chose to sit inside. "Why?", you may wonder. Just so I can take lovely pictures for all of you. Sitting under a red umbrella might be peaceful and relaxing, but it wouldn't do for good pictures. We met with Kaul, the General Manager who patiently answered my questions about the place, the menu and the food. Before we began eating, the bar area caught my attention.
Interesting, right? Even the wall decor on the right in the picture below was pretty intriguing. For some reason, I see a face. Do you?
Anyway, most Indian restaurants offer lassi (yogurt smoothies), specifically mango lassi – a personal favorite. But Thali Too had a Lassi Bar, so it was a chance to try other flavors. Hubby ordered Raspberry Lassi and I had Passionfruit Lassi. Both lassis were pretty good.
The first item that we taste-tested was this plate full of Indian snacks – Chili Pakora, Medhu Vada (donut-shaped fried lentil fritters), Aloo Bonda (potatoes tempered in mustard seeds and curry leaf – split pea batter-fried dumplings), Onion Bhajia (crisp red onion split pea dusted fritters) and Cutlet (fresh-cut vegetables, potato and paneer) with two dips – tamarind and coconut. Deep-fried deliciousness!
Up next? Samosa Chat. If you've never eaten Samosa Chat, it's amchur potatoes and green peas in hand rolled pastry topped with chat and dry-aged peas.
Bhel Poori Chat is a favorite of mine. It's a sweet, sour and spicy emulsion of chat, puffed light rice and lentil noodles.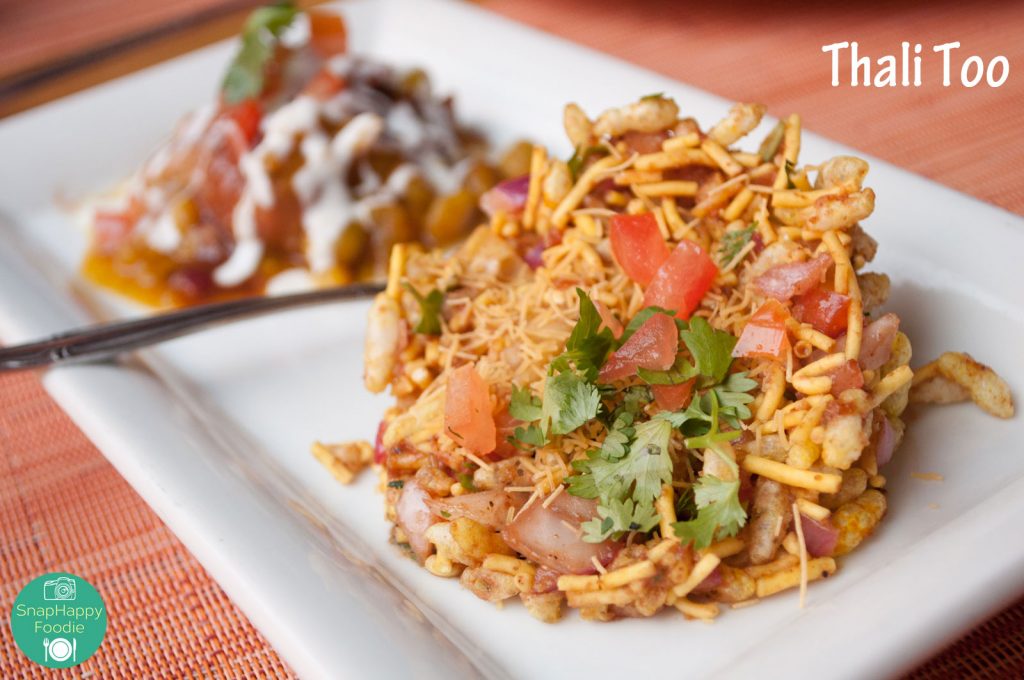 It was my first time to eat Paneer Tacos – spiced paneer and cilantro pesto with cucumber salsa wrapped in a corn tortilla.
And yet another first – Chana Tacos (spiced chickpeas).
Now, what do you get if you mesh together naan and pizza? A naanizza! This one had tikka masala tomato sauce, fresh mozzarella, roasted garlic spinach and portobello mushrooms.
Just for the summer, they're offering a refreshing Watermelon Salad with watermelon, mint, cilantro, feta cheese and a vinaigrette dressing.
We were so stuffed, but when the Vegetarian Burger came out from the kitchen, who can say no? The homemade patties were made of chickpeas, cauliflower, green beans and spices on a brioche bun.
If you love crepes, then Masala Dosa might just be the dish for you. There are many kinds of dosas, but we chose the one with tempered turmeric potatoes. It looks innocent enough, doesn't it?
Our dosa was practically the same length as my arm! Crazy, right?
Our Masala Dosa came with a little plate of Veggie Uthappam topped with green peas, tomatoes, cilantro and green chilies.
Here I am leaving Thali Too after a delicious and hearty meal.
Verdict: Thali Too specializes in vegetarian Indian food, but they've expanded their offerings to include Asian, Greek and Tuscan salads, sandwiches and soups, plus vegan and gluten-free items. Their brunch menu is available on weekends only from 12 noon to 3 pm. On weekends, they're open till 11 pm, but on weekdays, they're open till 10 pm.
As for the food, while neither of us is a vegetarian, we thoroughly enjoyed the food from Thali. We didn't even miss meat because each dish was substantial enough to make you feel full, especially the Vegetarian Burger. If this is the kind of vegetarian fare I can eat everyday, then I'll embrace vegetarianism wholeheartedly.
Address:
Thali Too
65 Broadway New Haven, CT 06511
Disclaimer: I received an invitation for this free food event from Splash PR in exchange for writing a review on this blog. All opinions in this blog post are my own and my husband's.