Guess what? My blog SnapHappy Foodie turns 6 today!
Another year of eating, cooking and baking done. But looking back on this blog…wow! Seven posts in one year. Just seven posts? What on earth happened here?
During the past year, #checkyourprivilege was something that subdued my desire to blog. It would've been fun to live in blissful ignorance, but some food matters were too obvious to ignore.
There were food importation issues here in the Philippines that resulted in farmers with produce that had nowhere to go; hence, it ended up getting dumped. How can local farmers compete with cheap imports? Add to that the rising prices of food products that even the so-called "poor man's fish", galunggong, was rendered costly and unreachable to those whose meals depend on it.
With many food issues going on in the country, blogging about where I've eaten seemed like a tone-deaf endeavor. It seemed like blogging about restaurants was bragging, not even of the humble sort. "See? I can afford to eat here."
What's more, 2019 saw us taking on a new challenge – fostering two abused and neglected doggos – that pretty much kept us busy, even travel was pushed to the backburner. We knew they needed our help to get better, but there were days when I felt we were way in over our heads. How can you undo years of abuse and neglect? What's more, why were we cleaning up other people's messes? It was tempting to throw in the towel, and just pass 'em both to other people. But the thing is, they deserve better. Whatever happened to them was no fault of theirs. Eventually, I realized that we didn't just help them get better; they made us better too. We needed our own healing, and that's where they came in. Ten months later, it's a good thing we didn't give up on the two funny knuckleheads when the going was tough.
So those are the reasons for the blog silence.
Anyway, I've always had my little food advocacies – buying local and/or organic food, supporting local farmers and practicing sustainable dining. That's why it was great when hubby and I attended WWF-Philippines' The Sustainable Diner Workshop "Savour Planet: No Place for Waste" in Tagaytay City, Cavite. The focus of the workshop? Reducing food waste.
I only blogged about four restaurants: Café du Tukon in Batanes, as well as Café Dominique, Sincere Café and Restaurant and K&L Café in Quezon City.
I even managed to share our trip to Kuala Lumpur, Malaysia.
That's not to say we didn't do our fair share of eating out. We did go to Ricksha Streetside Tandoor, Francesco's, Ming's Garden, Mateo's Restaurant Café, Concha's Garden Café, Roberto's, Motto Motto PH, Blue Rocket Café and Kitchen, Bless Las Paellas, Everything Nice Cake Shop and Café, Chaya, among others.
Happily, I found myself baking a lot again, especially now that we're under quarantine. But baking here entailed some hits and misses, much learning and adjusting. I adore my De'Longhi Sfornatutto Maxi Electric Oven, but it's a smaller oven than what I'm used to in the U.S. What's more, finding ingredients here in the Philippines is quite challenging, and the measurements I'm used to (like with butter) is different (it's in grams!).
That didn't stop me from experimenting. My baking experiments this past year included:
breakfast food like Strawberry and Blueberry Pancake Bundts,
I also baked this Homemade Sandwich Bread because the nearby bakery was closed due to the community quarantine here in Metro Manila.
I also baked Apple Bread after finding a lone apple in our fruit basket . . .
. . . as well as Honey Oats Banana Muffins to use up some old bananas.
I dabbled in making Mantau (steamed Chinese buns). It's actually one of my husband's favorite breads, so I ended up making it more than once.
Cookies that are soft, moist and chewy like Chocolate Crinkle Cookies (I experimented with different bake times and temperature settings just for the heck of it.), Snickerdoodles, Chocolate Chip Cookies and Meringue Cookies. I also made Butterscotch Blondies (but didn't get a proper picture).
My slow cooker also saw much action this year. Can you believe that I made lechon kawali in a slow cooker?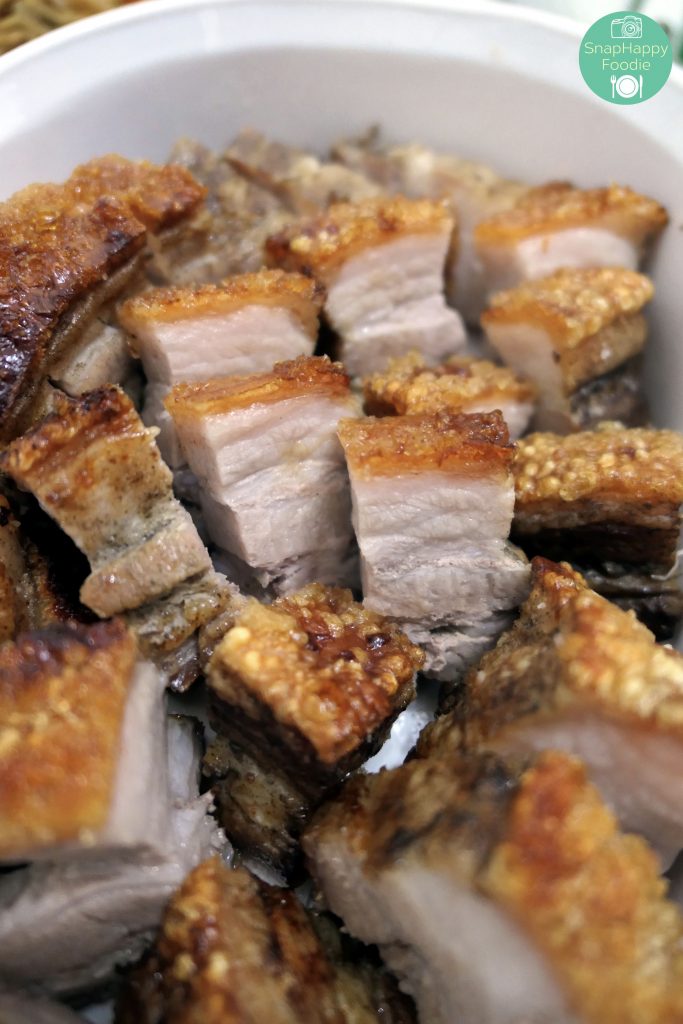 My friends and I did some soju tasting. . .
. . . as well as honey tasting because why not?
I wanted to join the Dalgona Coffee bandwagon, but lactose intolerant me didn't have/couldn't have regular whole milk. I experimented by using good ol' reliable Swiss Miss Hot Chocolate. The final product tasted like mocha! Of course, it shouldn't come as a surprise since Coffee + Chocolate = Mocha. 😁😆🤣
I also learned recently how to slice open a jackfruit, and make Minatamis na Langka (Sweetened Jackfruit) and Roasted Jackfruit Seeds.
I finally ate ulang – freshwater shrimps that are larger than the regular shrimps kinda close in size to prawns with bigger heads. Very tasty and meaty.
As SnapHappy Foodie turns 6, I'd like to discover more heirloom dishes and learn more about our Filipino food heritage. I'd like to visit more local farms and support more farm-to-table endeavors. After all, good food is food that's good for you.
Even if I've been on a blog break, thank you for still visiting my blog. Anyway. . .
Happy blog birthday, SnapHappy Foodie! Cheers!