Last week, hubby and I headed to Fairfield, CT to test the food at Hana Tokyo. Wendy and Greg from Connecticut Lifestyles Magazine were there. I also met Kim of Savory Sweet Eats with her husband Ron. I check out her blog every now and then, so meeting her was great. I was so excited to finally meet Bonnie of The Home Place Blog. She went to the CT Food Truck Festival (which I blogged about here) and also to NIXS (which I blogged here), but somehow we kept missing each other. Tonight was the third time and Bonnie was right, "third time's the charm". Then of course, the ever gracious Andrea of MaxEx Public Relations was there.
Here's a gallery with photos of Hana Tokyo's interior.
Alvin serving us our Scorpion Bowl. I love this drink! It has rum, brandy, fruit juice and 151.

Nice huh! What is it about fire that's so appealing when it comes to food and drinks?

We also ordered a Sake Tini and a cold Ozeki sake when we moved to the teppanyaki table.

For starters, we had these appetizing treats beginning with Tuna Lover's Roll that has tuna and avocado topped with…surprise, surprise…spicy crunchy tuna. They didn't call it Tuna Lover's Roll for nothing.
Their tempura was battered and deep-fried yet surprisingly not greasy.
The fresh sashimi included tuna (maguro), salmon (sake), flounder (hirame), white tuna, yellowtail (hamachi) and crab (kani).
The Magical Roll had spicy crunchy tuna, cucumber topped with smoked eel, shrimp, avocado, tobiko and scallions.
The Dynamite Roll had spicy yellowtail and tuna topped with spicy crunchy crabmeat.
When eating in hibachi places, I actually prefer the clear soup to the miso soup.
The tossed salad with homemade sesame dressing was pretty good. In some other places, the dressing ends up a watery mess but not here.

For our hibachi meal, we had vegetables, chicken, steak, shrimps and lobster. They served us both hibachi fried rice and noodles. This is how full my plate was.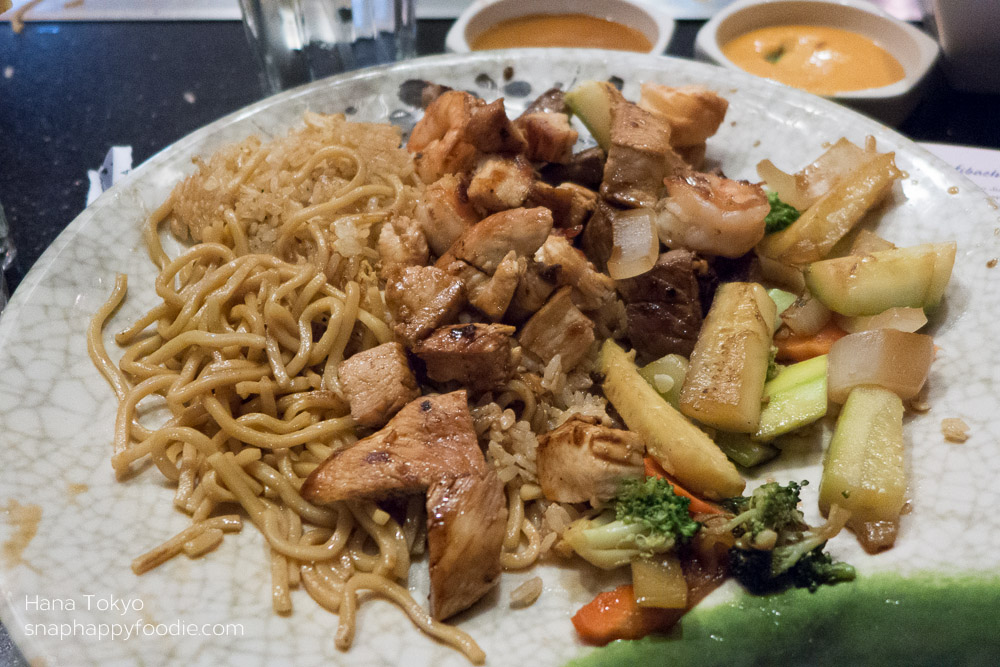 Then they served us desserts. Four different flavors of ice cream. I asked for mango and Wendy wanted green tea. I don't know what the other flavors were because I was just all too happy to eat mango ice cream.

They also gave us Fried Cheesecake. It was my first time to try Fried Cheesecake, and I shouldn't be surprised that it was pretty yummy.

And of course, a long-time favorite – Fried Bananas!

Here's Bonnie taking a picture while Alan (Hana Tokyo's owner) and Ron look on.

This is what they give you if it's your birthday – a Brownie Sundae with Coconut Ice Cream. Andrea blew the candle out on behalf of her mom who celebrated her birthday recently. Belated happy birthday, Andrea's mom!
So that's everything we ate that night, which is really a whole lot of food – the fresh sushi, the crispy and light tempura and the well-seasoned hibachi dishes. Oh, and the desserts!
They're located in the Brick Wall Plaza, but their signage is slightly hidden by a shrub. Hope they fix that. We don't want people not finding them now, do we?
From the outside, Hana Tokyo looks small. You can see the sushi bar and assume that's all there is to it, but don't stop there. There are three sections to this place – the sushi bar, the tiki bar and the hibachi area. The tiki bar is separated from the hibachi area with a glass wall. The dining area has eight teppanyaki tables.
They offer pretty much a tried and tested menu. After all, you don't mess with the tried and tested. I saw an onion volcano. Some of us got sake sprayed in our mouths (honestly, in this history of hibachi places, who started this?). I loved the Chef Special Rolls that we had, all three types. Let's not forget their Scorpion Bowl. Plus, we had the chance to talk to owner Alan Wu.
But what makes Hana Tokyo different from other Japanese sushi and hibachi places we've eaten at is the attention to detail, the good quality of their ingredients and the great final product. Whether or not it's your first time to try hibachi, check out Hana Tokyo in Fairfield.
Address:
Hana Tokyo
1275 Post Road Fairfield, CT 06824
Disclaimer: I received an invitation for this free food event from MaxEx Public Relations in exchange for writing a review on this blog. All opinions in this blog post are my own and my husband's.