After a busy morning that began with breakfast at Muddy Waters Cafe followed by an hour-long Segway tour of New London, it was finally time for lunch. What was the next food stop? Fatboy's Kitchen & Bar.

While poring over both their brunch and lunch menus, we indulged in oysters from the raw bar and their Cinnamon Bun Iced Coffee and Manmosa.
Cinnamon Bun Iced Coffee? It's iced coffee with RumChata, Kahlúa and a cinnamon sugar rim.
Their Manmosa – the manly version of a mimosa – has New Amsterdam, orange juice and Prosecco.
This savory yet sweet Sticky Honey Bao Buns were filled with spicy pork and topped with pickled cucumbers. What a tasty start to our lunch! It was enough to whet our appetites, but not too many to spoil it.
Yeah, I had the Manmosa.

Now, what else did we eat?
Dani, the manager/owner of Fatboy's, told us that the "Bacon, Egg & Cheese" was definitely a can't-miss. Described on the menu as "3 Hour Pork Belly, Crispy Soft Egg, Goat Cheese Polenta", I wondered what exactly was "crispy soft egg"? How can one be the other?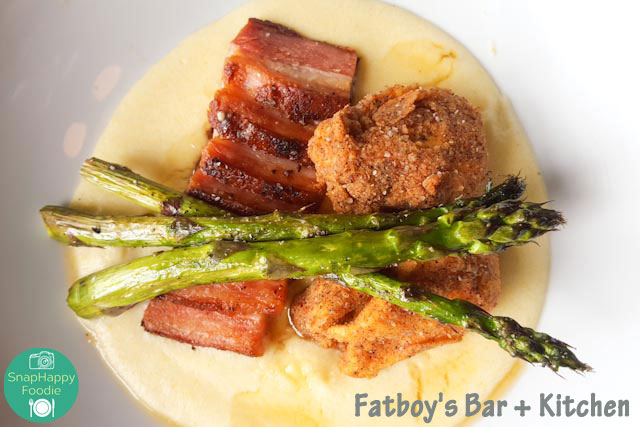 It turns out that it's soft-boiled egg coated in breadcrumbs and fried. I haven't eaten egg like this before! You get a lovely mix of crispy and tender swirling in that bright golden, flavorful yolk. It's one hell of a good egg. And the bacon, my goodness, the bacon! It was crunchy, salty perfection. It wasn't soggy, nor was it fatty. The goat cheese polenta worked perfectly with the bacon and egg. This is not your typical bacon, egg and cheese, for sure!
Then there was the Short Rib Grilled Cheese with white cheddar and red wine onions. If I wasn't in love with my food, I'd have gobbled this one up too. Imagine very tender meat covered in cheese and sandwiched in between golden crusty bread. Mmmmm!
Verdict: I love it when restaurants take a familiar dish and turn it into something else. At Fatboy's, they transformed bacon, egg and cheese into something inspired and special. Seriously, have you ever seen it this fancy? I think not! I'm glad that I listened to the manager's suggestion because it was really something unique. Now I'm curious about the other items listed under "Something a Little Different…" on their brunch menu. What twists do they apply on old favorites, I wonder? I just hope it's not too out there. Some restaurants push the boundaries a little too much in their attempts to reinvent old favorites that you can't even recognize your favorites anymore. BUT I'm happy to see Fatboy's didn't make that mistake with their Bacon, Egg and Cheese. I'm just so smitten by it.
While it's obvious that the limited space and seating inside can easily get packed on a crowded night, they do have an outdoor deck. What it lacks in space, it makes up for in great food and drinks. The service? Attentive Dani and the team knew what's what on the menu. Keep up the good work, Fatboy's!
Fatboy's Kitchen and Bar is open for brunch, lunch and dinner so you have all day to try their food. Happy Hour is Mondays to Fridays from 3:00 PM to 6:00 PM. If you're in New London, then add Fatboy's to your must-visit list.
Address:
Fatboy's Kitchen and Bar
194 Bank St, New London, CT 06320

Disclosure: I received an invitation for this food trip to New London, CT in exchange for writing a review on this blog. While this is a sponsored post, all opinions are my own.