After we spent such a busy day going on a Segway tour, and discovering new restaurants like Muddy Waters Cafe and Fatboys Kitchen + Bar, the last stop on our day trip to New London was Daddy Jack's, a restaurant and bar that serves locally sourced seafood, wood-fired pizza and other international specialties.
Before we went to New London, I stumbled upon this video on YouTube.
Now you might be wondering about the food and drinks. Hubby and I agreed that we'd order seafood from Daddy Jack's menu. For my drink, I asked our server for her recommendation. I ended up with this Cosmo. It's pretty, isn't it?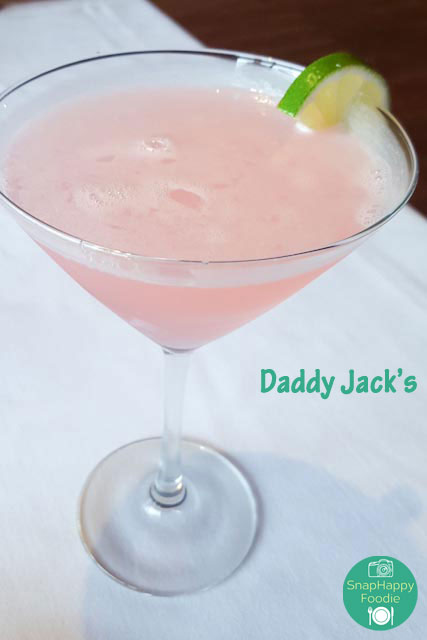 Nothing like this hearty Shrimp and Corn Chowder to work up our appetite!

When dining out in an Italian restaurant, I frequently get Chicken Piccata. This time, I had Salmon Piccata with its delicious creamy lemon caper sauce.

Here was my hubby's Stuffed Flounder. By the time we left Daddy Jack's, we were as stuffed as the flounder we ate.

Verdict: We went to Daddy Jack's on a Saturday for early dinner. On the night we went there, the place was absolutely buzzing with activity. The place was obviously a popular dining spot that enjoys brisk business. The team had such a lively energy – everyone was in a constant state of flux moving to and fro. Chef Jack Chaplin even came by our table to say hello! Too bad I didn't get to have a picture taken with him.
One downside is they didn't seem to have a lot of parking spots available, so keep that in mind if you're thinking of visiting. Nevertheless, Daddy Jack's is a good family restaurant that serves seafood done right.
Address:
Daddy Jack's
181 Bank Street
New London, CT 06320