If you ever find yourself up in Basco, Batanes, not only is Fundacion Pacita a must-visit, their very own farm-to-table restaurant, Café du Tukon, is a definite must-try because it celebrates Ivatan cuisine.
Since we stayed at Fundacion Pacita during our all-too-brief visit to Batanes, eating at their restaurant was a no-brainer.
Café du Tukon translates to "cafe on a hill".
"Café du Tukon supports Ivatan farmers and cooperatives by making sure that when you place your order, you will get the freshest catch that produced by the hotel's neighbor fisher folk and farms available in the season. Farm to table goodness at Café du Tukon: Most of the vegetables, beef, and pork served are locally produced and organically raised by farmers of Sitio Tuko. Some of the products all come from the backyard of Fundacion Pacita Hotel in Batanes where they also produce their own jams and breads. Some dishes might be unavailable and minor ingredients may change due to seasonality."
My apologies for not taking photos of the restaurant's exteriors. We had to wake up early to get breakfast before our tour van arrived to pick us up. Don't we all look sleepy?
Anyway, I love the interiors of the restaurant with its eclectic design and pastel colors.
I definitely appreciate restaurants that make an effort in providing a certain ambiance. Of course, their food has to be pretty good as well! What's the point of being a restaurant if you can't serve good food, am I right?
The large windows allow you to enjoy the view of the Batanes hillside.
You can just sit and stare out the window while enjoying your meal.
Eating there early meant we had the place to ourselves!
Even the light fixture is worth a glance up.
The painting below reflects the classic Ivatan house building method.
Since it was my first time to go to Batanes, it was imperative for me to try dibang, a flying fish that is common in the island. This fish can literally jump out of the water to avoid predators. Fascinating, but I guess it's a skill that was rendered useless since the fisher folks managed to catch it and serve it to me. Ho ho.
Hubby ordered this tapsilog (picture on the right), one of their bestsellers. While it might not sound like an exciting choice of food to eat, grass-fed, free-ranging cattle grazes peacefully all over Batanes, so beef in the area was definitely of good quality.
During breakfast, I ordered a pot of Tisane, which is an infusion of local herbs. For dinner, we tried Tubho Iced Tea. Tubho is a wild fern found only in the area.
For our starters, we ordered some Wakay Chips and Dip. Wakay is sweet potato, but I don't know how different wakay is from regular sweet potatoes. I love sweet potato chips, so this is a definite thumbs-up.
We also ordered their Tamidok Salad. Tamidok is the Ivatan word for wild fern, commonly known as pako.
I love how vibrant the colors in this salad are! Then again, I'm biased – I love pako.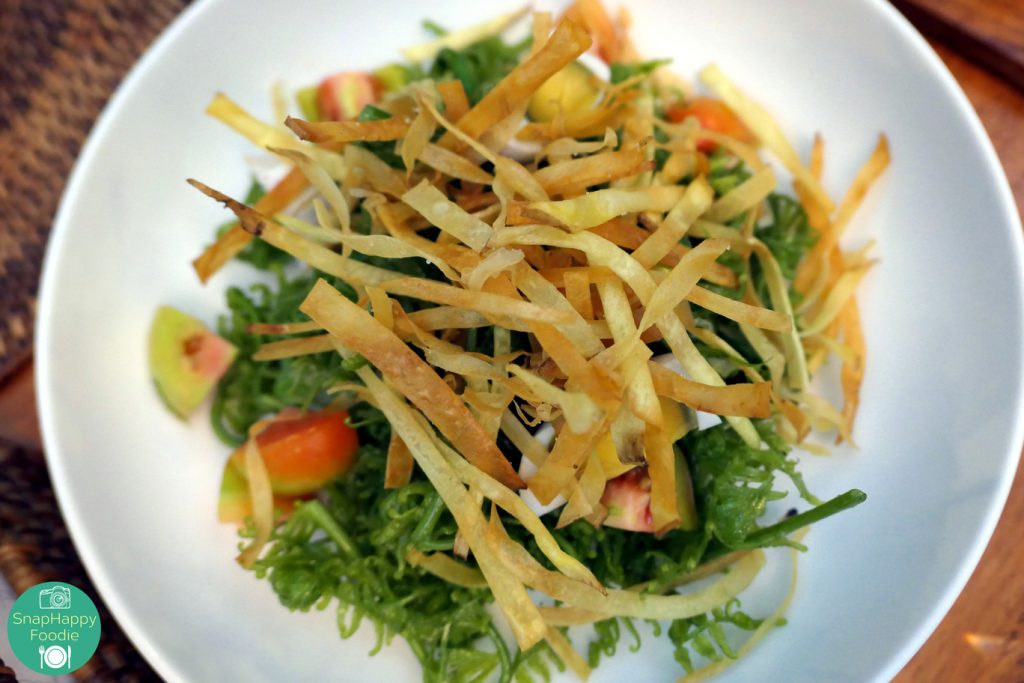 This is Picadillo a Baka or simply put, Beef Picadillo. It was served with nisuhad a wakay – boiled sweet potato.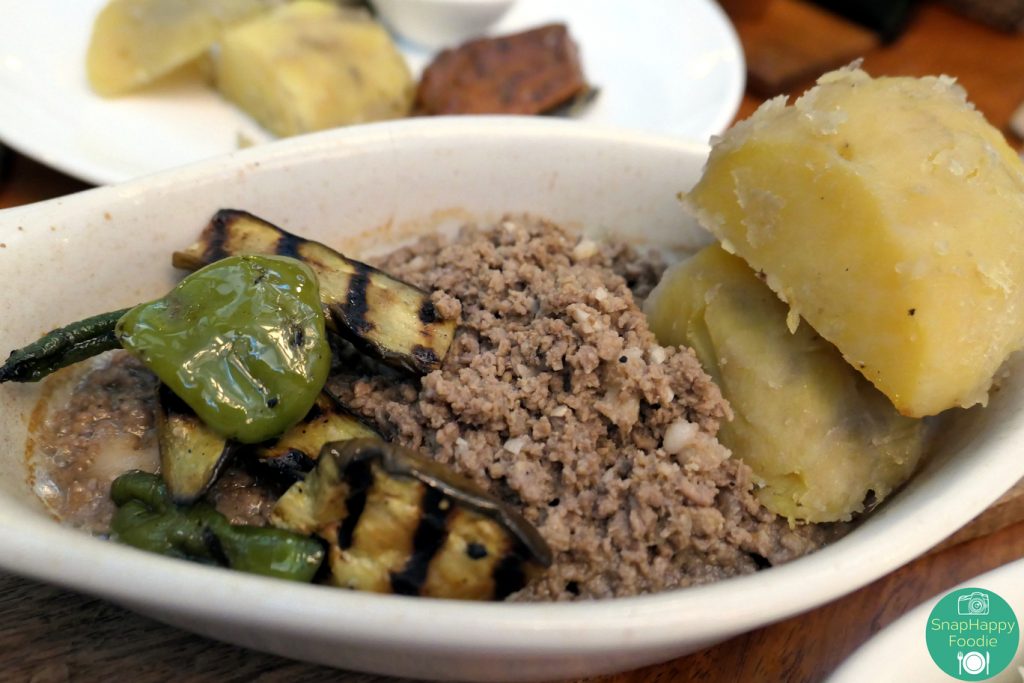 For the life of me, I can't remember the name of this dish. I'm sure that it'll come to me in due time.
Here's our little group during dinner. Our friend was celebrating his birthday, which was really the reason for the trip.
He even got this tasty slice of carrot cake!
Before we flew back to Manila, we ate a hearty breakfast of dibang and tapsilog all over again at Café du Tukon. Hey, I wouldn't have the chance to eat dibang in Manila, so I'm taking advantage!
Verdict: What's not to love about Café du Tukon? The food they offer reflects true farm-to-table provenance with ingredients that are sourced from local farmers and fisher folks. Their menu accommodates seasonal changes. The place offers panoramic views of sun, sky, water and mountains – something you don't see often when you live in the city. If you get lucky, you might just get seated at a table with breathtaking views. It's a quiet, little retreat from the modern world. What's more, it is consistent with the artistic vibe of Fundacion Pacita itself. (FYI: Fundacion Pacita was once the home studio of internationally acclaimed artist Pacita Abad.) There is an actual art gallery below the restaurant and the lodging that deserves a separate blog post.
Its out-of-the-way hilltop location works to its advantage. Going to Fundacion Pacita is a destination unto itself, after all. Having Café du Tukon on site is the cherry on top of such a gorgeous sundae.
Address:
Café du Tukon, Fundacion Pacita
Brgy. Chanarian, Tukon
Basco, Batanes 3900
Philippines