Last Saturday, hubby and I had the pleasure of spending the day in New London. We've been to New London before when we ate at Hot Rod Cafe (see post here), but there are more restaurants now since we last visited. I'll give my rundown on the different restaurants and the Segway tour in separate posts. Right now, I'd love to share the itinerary for our day trip, which you can definitely do on your own.
8:30 a.m. – Breakfast at Muddy Waters, 42 Bank Street, New London
10:00 a.m. – Enjoy a Segway Tour of New London
1:00 p.m. – Lunch at Fatboy's Bar + Kitchen, 194 Bank Street, New London
At Leisure – Explore downtown New London's shopping and dining options, museums, etc.
7:30 p.m. – Dinner at Daddy Jack's, 181 Bank Street, New London
We left Danbury before 7:00 AM because it takes 1 1/2 hour to get to New London (88 miles/142 kilometers each way). I wanted to be there by 8:30 AM for a light breakfast at Muddy Waters Cafe.
After eating, we made our way to Wheeling City Tours, LLC. While their address says Bank Street, their entrance is on South Water Street. Keep in mind, reservations are required. Despite the alternating rain and fog, the Segway tour of Downtown New London, the waterfront, and Fort Trumbull was so much fun!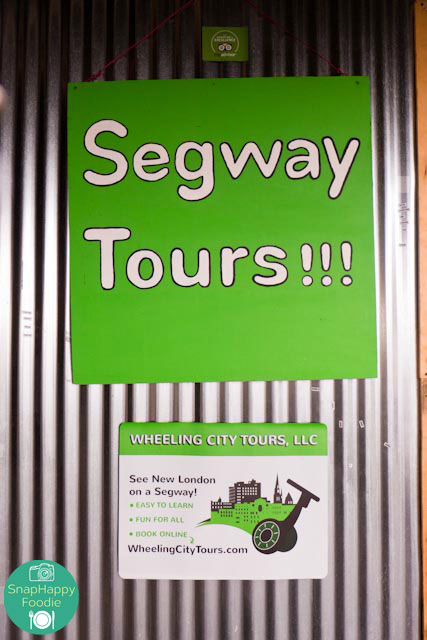 After one hour of gliding and rolling around New London, we definitely whetted up our appetites, so we headed to Fatboy's Kitchen and Bar for a filling lunch.
We were tempted to eat desserts there, but didn't want to miss desserts at Sweetie's Bakery and Cafe, which was right across them. While eating chocolate cream pie and creme brulee at Sweetie's, I wondered if I had room in my tummy to eat ice cream from Berry's Ice Cream & Candy Bar. Sadly, it turns out I didn't.
After desserts, we drove around New London and checked out the Connecticut College Arboretum to enjoy a bit of nature. We thought of visiting the Lyman Allyn Art Museum and the Shaw Mansion, but it was too late.
We hung out for quite some time at Sarge's Comics to indulge our inner geeks/nerds. The store has so many good stuff; I didn't even know where to begin.
Then it was time to head out to Daddy Jack's where a hearty dinner awaited us.
New London is shaping up to be a foodie destination. Bank Street reminded me of Washington Street in South Norwalk with shops and restaurants left and right. Most restaurants have outdoor seating with water views. New London's got charm, character and history. Everyone seems to know everyone else. What's more, New London is easily accessible. If you're coming from New York City, there's an Amtrak station pretty close to Bank Street. While it's a work in progress, it's definitely headed in the right direction.
Who knew New London had such nice gems tucked away? If you want to be in on an up-and-coming foodie place, then make sure that you add New London to your list.
Disclosure: I received an invitation for this food trip to and Segway tour of New London, CT in exchange for writing a review on this blog. While this is a sponsored post, all opinions are my own.
Addresses:
Muddy Waters Cafe
42 Bank Street New London, CT 06320
Wheeling City Tours LLC
36R Bank Street (entrance on South Water Street)
New London, CT 06320
Fatboy's Kitchen and Bar
194 Bank Street New London, CT 06320
Sweetie's Bakery and Cafe
91 Bank Street, New London, CT 06320
Daddy Jack's
181 Bank Street, New London, CT 06320