Our little troop headed to Seneca Lake last week. I had a list of wineries and restaurants to go to, but we wanted to stay somewhere different. Sure, we could've stayed in a hotel, but there's really nothing exciting with that, no matter what your budget is. Bed and breakfast? Maybe. Campgrounds? Um, no. Camping and I are two things that would never go together. For starters, insects love me, even if I use insect repellant. While I enjoy outdoor activities, it's limited to biking and hiking, even picnicking. Camping? Nuh uh!
Then we came across Seneca Sol.
"Nestled in a secluded forest setting, this hand made safari tent sits atop an elevated wood platform. Within the weather resistant tent, amenities include a queen bed, comfortable furniture, writing desk, and rechargeable lanterns that house a USB to charge your devices."
Hmmm. How could I say no to that? It sounded pleasant enough. It was a chance to push myself out of my comfy comfort zone and try something I've long resisted – camping. Even if it's in glamping form. Bugs, be damned.
We stayed in their Cherry tent, which was close to a hiking trail. You can see our little dog in the picture below because Seneca Sol is. . .drum roll please. . .pet-friendly!

This is their very comfortable queen bed. I was surprised that a night owl like me went lights out at 10 PM. I was snug as a bug in a rug while it was raining outside. (I just love that phrase!). Speaking of lights out, the tent had no electricity.

There's a cozy area with a nice chair if you wanted to read during the day. At night, reading might not be such a good idea.

In the other corner, you can see the clothes and shoe rack. There was a broom behind it, so I kept sweeping the floor to make sure creepy-crawlies weren't around. The rechargeable lanterns with a USB port served its purpose as a phone charging station.

This writing desk was a nice added touch. Not that I actually used it. While I journaled for a bit before it got dark, I was plopped down on the bed scribbling away. The wooden chest held blankets inside in case you get cold at night.
Here's the private balcony with outdoor seating. It would be nice for us to wake up early and sit out there, but it didn't happen. But at least it's there had we actually needed it.

Here's the Check-in/Lounge Tent where they served complimentary continental breakfast in the morning. The lounge area is actually opposite this.
I dreaded the bathroom situation before we headed there. After we checked in, Laura showed us the bathhouse and I went inside for a look-see.
They have private showers. Hallelujah! They provided towels and toiletries too. Oh, and the most important thing for me. . . hairdryer!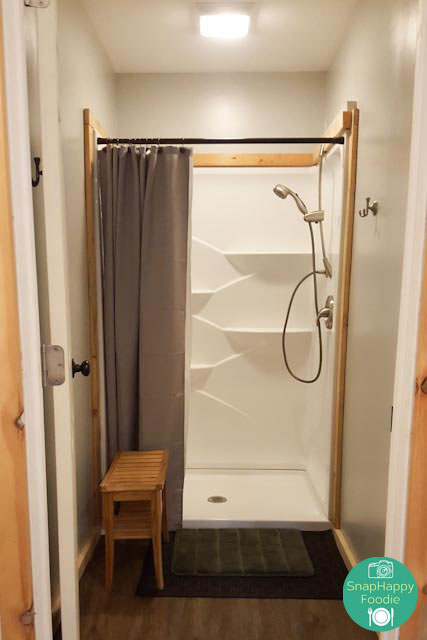 I was lovin' these mismatched mirrors.
Notice the A/C in the window?

Then there's the resident sweet charmer, Bandit. She said hello to me after I showered. She's adorable.
It's really a forested land, so even if I'm not a fan of bugs, there's not much I can do except arm myself with insect repellant. The tent itself had an inner screen, apart from the canvas tent. We kept the tent zipped up, so the bugs wouldn't feast on me. While I still saw insects inside, it wasn't as many as I thought it would be.
I loved falling asleep to the sound of falling rain, which is why I slept soundly. Hubby said after the rain, he heard strange noises outside during the early morning, but I was too far gone to notice. We're not familiar with animal sounds, so when we discussed it with fellow glampers, one guy said he thought it sounded like a fox. Yikes! Good thing I was sound asleep.
Seneca Sol is a two-year-old business owned by Cameron and Christine, a husband-and-wife team (you can find out more about them here). We didn't get to meet them when we checked in. It turns out they were on their way to the hospital because Christine was about to have a baby. Exciting, right? We met Cameron the next day, so we had the chance to congratulate him on their new baby. They were awesome enough to share these pictures of their precious girls.
Now the most important question: would I glamp again? Even I'm surprised that my answer to that is YES! I don't think I'm ready for hardcore camping at this point, but with a pet-friendly place like Seneca Sol, I'm definitely up for another go at glamping.
Address:
Seneca Sol
4625 Satterly Hill Rd
Burdett, NY 14818