Butterscotch Blondies. The answer to our sweet cravings. Since last Saturday, my sweet tooth has been acting up like crazy. I tried to be really good and ate fruits because after all, fruits are sweet. I threw some bananas, mangoes and strawberries my way for good measure. Did my sweet tooth like it? Heck no. I tried to give it some rice milk chocolate. No go. Then today, it was hubby's turn to crave something sweet. My hands were tied (or so I told myself) – this had to be addressed and dealt with pronto. It's not right for the two of us to crave something sweet and not get it.

What the sweet tooth wants, the sweet tooth gets. Good thing I found this recipe for Butterscotch Blondies here. As far as I'm concerned, blondies are the opposite of brownies – lighter in color, flavored with vanilla. Yum! Some people call it blonde brownies, but to me, it deserves its very own name.
Anyway, the recipe was pretty easy to follow, but I had three issues with it.
9×13 baking pan

. I had my trusty 9×9 baking pan, but no 9×13 baking pan.

Butter

. That's not something I use, so I thought of using vegetable oil as a substitute.

Pecans

. I'm out of pecans. Just one of the items that I haven't been able to buy lately.
Did I let those issues stop me from trying this recipe? Of course not! I used what I had. I didn't get to take the photos while I was making the Butterscotch Blondies, but I took some after it was baked.
First, I mixed the vegetable oil and sugar in a mixing bowl until there are no more lumps, then added the eggs and vanilla extract. Once those four ingredients were mixed well, I added the flour, baking powder and salt. After more mixing, I poured it into my greased 9×9 pan and baked it at 350°F (180°C) for 20 minutes. Then I allowed it to cool down before removing from the pan and cutting it.
Since I was baking in a differently sized pan than what was required by the recipe, I shortened the bake time from 30 minutes to 20 minutes.
After it was done, I was worried because it looked like this. No crackly crust. No wrinkly edges. Was it a mistake using a 9×9 pan?
Taste-wise, definitely not a mistake! With two cups of brown sugar in it, this pan of Butterscotch Blondies was guaranteed sweetness.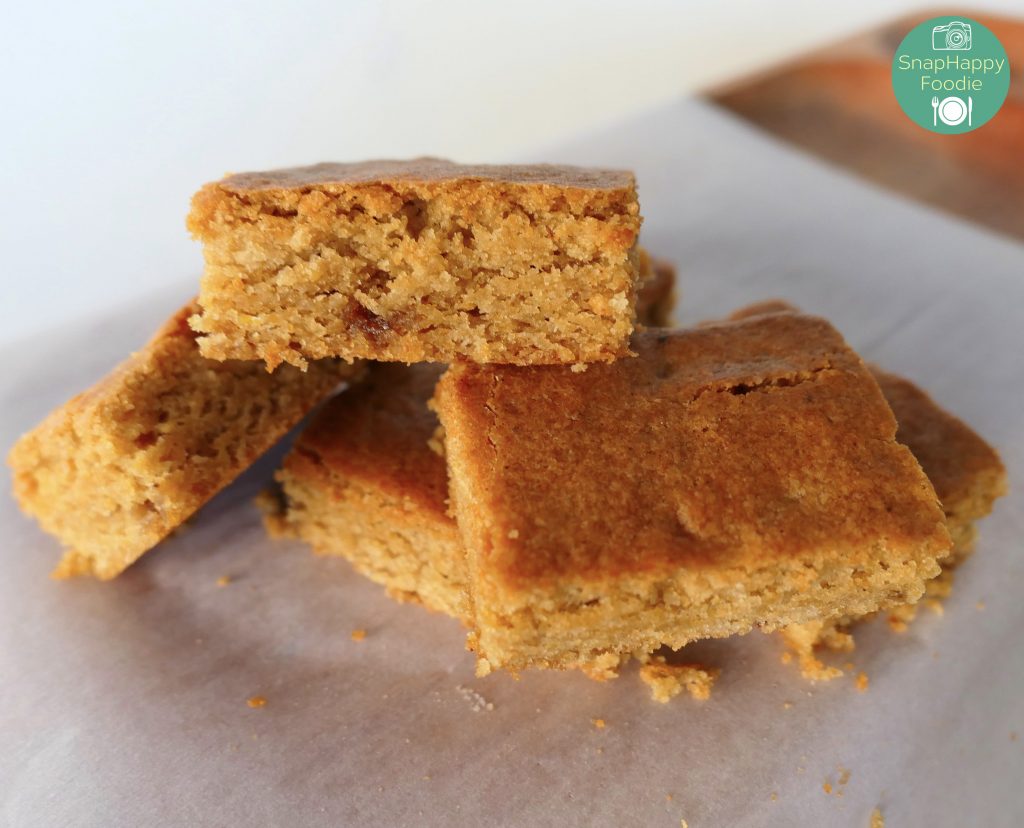 I think it would be great to eat these while drinking coffee and tea. An even tastier idea? Butterscotch Blondies à la mode! What a tasty treat to eat this with ice cream! It might just push you to a sugar coma though. Be forewarned.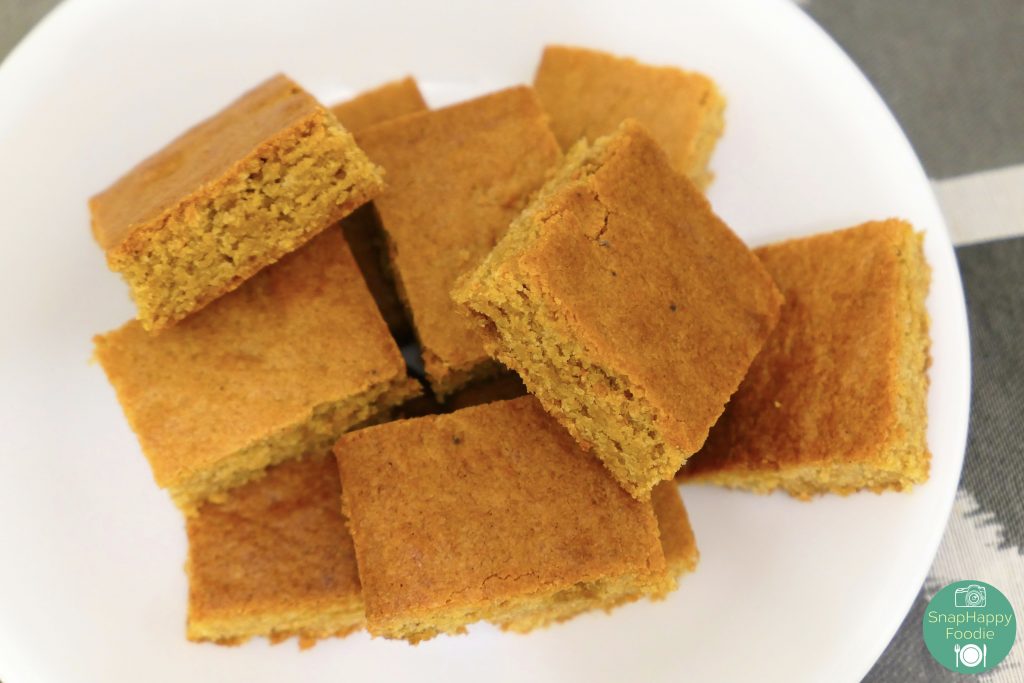 I'm kinda bothered that it's flat, but I assume it's because of the baking pan I used. Not a biggie. The blondies still turned out soft and chewy anyway.
Next time, I'll try adding some dried fruit or even nuts like pecans and walnuts for texture. I might get taller Butterscotch Blondies if I use an 8×8 baking pan, but I don't think I need to buy an 8×8 pan. My 9×9 pan works well for my purposes.
So how's our sweet teeth now? Satisfied. If it could hum a happy tune, then it probably would've done so.